Norfolk, Virginia: Evolution of a City in Maps: 200 Years of Maps Compared Side By Side (Paperback)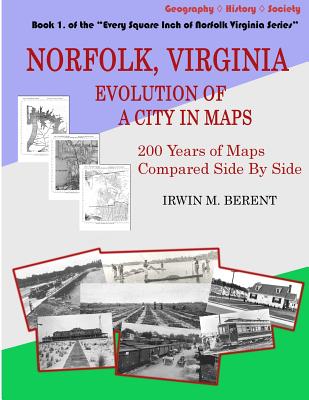 Description
---
This is the first book in the Every Square Inch of Norfolk Virginia Series, the most ambitious project of history and geography ever attempted for Norfolk - and one of the most unusual projects of its kind anywhere in the field of geography.
Norfolk, Virginia: Evolution of a City in Maps (200 Years of Maps Compared Side By Side) presents, among other things, an astonishing array of maps that, for the first time, shows in stunning detail the phenomenal evolution of one of America's most historic and important cities from its beginnings as a town to its current expanse. Indeed, this volume provides the basemaps to which all the other volumes will substantially refer. So it's not only the first book of what promises to become a classic in history-geography but it's an invaluable reference in itself.
The first eight books of the series cover general topics pertaining to the entire area of Norfolk, taking in all the land within the current city limits. The ten remaining books (9 to 18) separately cover specific areas of Norfolk, covering the history-geography of the original town and borough and each area annexed, in the order in which the area was annexed.
The extent of geography and history that is covered in these books is truly breathtaking. A listing of the titles and sub-titles gives a hint of the incredible amount of information contained in them:
(Book 1) Norfolk, Virginia: Evolution of a City in Maps (200 Years of Maps, Compared Side By Side)
(Book 2) The Waters of Norfolk, Virginia: A History-Geography of Hampton Roads, Chesapeake Bay, Elizabeth River, Creeks, Canals, Waterworks & Bridges (also Springs, Wells, Lighthouses, Quarantine, Dredging, Cable, Ferries, Tunnels, Fishing, Oystering, etc.)
(Book 3) The Land of Norfolk, Virginia: A History-Geography of Flora, Soil, Geology, Animals, Hunting, Parks, Race Tracks, Fairgrounds and Cemeteries
(Book 4) The Agriculture of Norfolk, Virginia: A History-Geography of Farming, From Strawberry Fields to the Market Square (Plantations, Truck Farming, Freedman's Bureau Farms, Agriculture Fairs, Dairies, Hemp, Orchards, etc.)
(Book 5) The Military of Norfolk, Virginia: A History-Geography of Fortifications, Encampments, Army and Navy Bases
(Book 6) The Roads of Norfolk, Virginia: A History-Geography of Roads and Street Names (also Turnpikes, Boulevards, State Routes, Interstate, Name Changes, Numbered Streets, Paving)
(Book 7) The Transportation of Norfolk, Virginia: A History-Geography of Stagecoaches, Streetcars, Electric Railways, Railroads, Balloon Flight, and Airports (also Piers, Wharves, Terminals)
(Book 8) Norfolk, Virginia: A History-Geography from Discovery to Development (Indians, Landowners, Early Boundaries, Real Estate Advertisements, Redevelopment)
(Book 9) From Town to Downtown: A History-Geography of the Town and Borough Lands of Norfolk, Virginia (early expansions, wards, and redevelopment)
Volumes 10 to 18 cover each of Norfolk's Annexations, covering every square inch of land annexed by the city, including Brambleton, Ghent ("the other Atlantic City"), Berkley, Huntersville (also taking in Huntersville, Outtensville, Barboursville, Lindenwood, and Villa Heights), Park Place, Colonial Place, Lambert's Point, Campostella, Roland Park, Ocean View, Ingleside, Norview, Oakdale Farms, Newtown, Lake Taylor, Little Creek, and more than 400 other landmarks, sections, regions, neighborhoods and sub-divisions.
About the Author
---
Irwin M. Berent has spent nine years directing the "Every Square Inch of Norfolk" project, culminating in this and other books of his historico-geographical opus. He is also author of Norfolk, Virginia: A Jewish History (NorfolkHistory.com). And his Jewish Genealogy (David Zubatsky, co-editor) is the classic bibliography in that field. He has also compiled Biographical Directory of the Crew of the USS Monitor (NC Division of Archives and History). With the renowned word maven Rod L. Evans, he has written Getting Your Words Worth and Weird Words as well as The Right Words, Drug Legalization (Intro by Steve Allen), Quotable Conservative (Intro by William F. Buckley, Jr.), and other books. Berent is editor and publisher of the HamptonRoadsTimes.com and co-creator of StoryCraft writer's software.