Making Life Better: The Correct Craft Story (Paperback)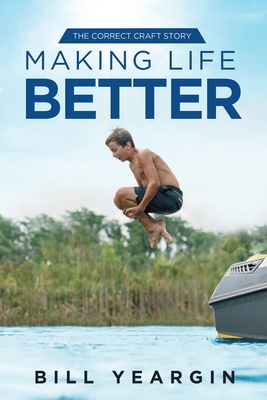 $14.95

Usually Ships in 2-8 Days
Description
---
Making Life Better is an inspiring story of character, integrity, ingenuity, and faith-values which form the foundation of an enterprise that has become one of the world's leading recreational boat builders. By holding true to its founder's mission of "Building Boats to the Glory of God" through times of adversity and prosperity, Correct Craft's leadership has provided customers with the industry's best products and used the proceeds of those sales to make the world better for almost 100 years.
In this book, CEO Bill Yeargin shares the account of Correct Craft's amazing history, culture, and journey to becoming an industry leader. You'll read about stories such as:
- Correct Craft's World War II boat building feat that was recorded by the U.S. government as "The Miracle Production"
- The Meloon family's decision to risk bankruptcy rather than compromise their Christian- based business ethic, and their successful efforts to track down and repay every creditor over the following two decades
- Correct Craft's transition from family to professional management after having five different CEOs over five years, and an astounding recovery rarely seen in business today
- The company's transformation built upon its Identity Pyramid, which sets forth the "Why" of "Making Life Better" through the 3 P's-People, Performance and Philanthropy
- Its very impressive track record of helping sellers of companies protect their legacy and employees through acquisitions that empower brands to meet their true potential
- Correct Craft's leadership role within the marine industry through advocacy, public service, and the creation of the first ever Marine-Industry Culture Summit