Tools and Weapons: The Promise and the Peril of the Digital Age (Paperback)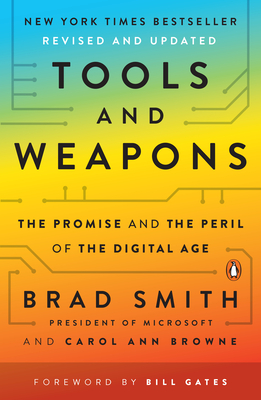 Description
---
The New York Times bestseller, now updated with new material on cyber attacks, digital sovereignty, and tech in a pandemic.

From Microsoft's president and one of the tech industry's broadest thinkers, a frank and thoughtful reckoning with how to balance enormous promise and existential risk as the digitization of everything accelerates.

"A colorful and insightful insiders' view of how technology is both empowering and threatening us. From privacy to cyberattacks, this timely book is a useful guide for how to navigate the digital future." —Walter Isaacson

Microsoft president Brad Smith operates by a simple core belief: When your technology changes the world, you bear a responsibility to help address the world you have helped create. In Tools and Weapons, Brad Smith and Carol Ann Browne bring us a captivating narrative from the top of Microsoft, as the company flies in the face of a tech sector long obsessed with disruption as an end in itself, and in doing so navigates some of the thorniest issues of our time—from privacy to cyberwar to the challenges for democracy, far and near.
 
As the tumultuous events of 2020 brought technology and Big Tech even further into the lives of almost all Americans, Smith and Browne updated the book throughout to reflect a changed world. With three new chapters on cybersecurity, technology and nation-states, and tech in the pandemic, Tools and Weapons is an invaluable resource from the cockpit of one of the world's largest tech companies.
About the Author
---
Brad Smith is Microsoft's President, where he leads a team of more than 1,400 business, legal and corporate affairs professionals working in 56 countries. He plays a key role in spearheading the company's work on critical issues involving the intersection of technology and society, including cybersecurity, privacy, artificial intelligence, human rights, immigration, philanthropy and environmental sustainability. The Australian Financial Review has described Smith as "one of the technology industry's most respected figures," and the New York Times has called him "a de facto ambassador for the technology industry at large."

Carol Ann Browne is General Manager and Chief of Staff at Microsoft. Browne and Smith have collaborated on a wide variety of writing, video, and other external engagements around the world, including their Today in Technology blog series.
Praise For…
---
"A clear, compelling guide to some of the most pressing debates in technology today." —Bill Gates, from the foreword
 
"Taming Big Tech will not be easy, but this book . . . shows where to start." —The Financial Times
 
"Smith's book is not the typical vanity project churned out by so many Fortune 500 leaders, the generic tomes on leadership and teamwork stocked at airport bookstores near the neck pillows. Tools and Weapons is a glimpse behind the curtain as Microsoft reckoned with the Snowden revelations, defended against the vicious cyberattacks, and took both the Obama and Trump administrations to court." —Rolling Stone

"'When your technology changes the world,' writes Smith, 'you bear a responsibility to help address the world you have helped create.' In Tools and Weapons, Smith and co-author Carol Ann Browne, make a persuasive, pragmatic case for owning that responsibility, in everything from digital privacy and surveillance to cybersecurity and social fragmentation to artificial intelligence and facial-recognition technology." —Seattle Times 
 
"Casual readers who know Microsoft primarily for Windows, Office and maybe Xbox will be surprised by the level of insight Smith brings to some of the biggest issues facing not just the industry but humanity. [Tools and Weapons] is written for a mass market, not just tech and policy wonks. It offers a framework for everyday readers to understand and think about the implications of powerful new forms of technology. . . . It's full of behind-the-scenes anecdotes, from internal Microsoft meetings to high-level sessions at the Obama and Trump White Houses. It makes ample use of historical references to put modern trends and technologies in context." —GeekWire

"Coming from an industry driven by disruption, it's refreshing to read Brad Smith's call for the tech sector to assume more responsibility. In Tools and Weapons, Brad and Carol Ann Browne wrestle with some of the world's toughest technology challenges with common sense and valuable insight reflecting their inside experience. The ideas in Tools and Weapons won't solve all our problems, but they're a very good place to start." —Reed Hastings, CEO, Netflix
 
"At a time when many leaders in tech want to avoid a discussion of the social, economic, and security ramifications of the products they've built, it's refreshing to see Brad Smith step up, urge the industry to take action, and acknowledge the need for smart regulation. This book offers an excellent encapsulation of some of the biggest challenges facing technologists, policymakers, and users alike." —Senator Mark Warner

"Tools and Weapons reads like a techno-legal thriller, yet offers a thorough and eye-opening account of the major tech controversies of the last decade, from NSA spying through AI ethics and the US-China standoff. Brad Smith, a believer that 'great power brings great responsibility' makes it evident that the future of humanity may depend on ethical and responsive leadership in the tech industries, and in this book he sets a high bar for his peers." —Tim Wu, author of The Curse of Bigness

"This is a colorful and insightful insiders' view of how technology is both empowering and threatening us. From privacy to cyberattacks, this timely book is a useful guide for how to navigate the digital future." —Walter Isaacson, bestselling author of The Innovators and Steve Jobs
 
"Perhaps more than any industry leader, Brad Smith understands that technology is a double-edged sword—unleashing incredible opportunity but raising profound questions about democracy, civil liberties, the future of work and international relations. Tools and Weapons tackles these and other questions in a brilliant and accessible manner. It is a timely book that should be read by anyone seeking to understand how we can take advantage of technology's promise without sacrificing our freedom, privacy or security." —Former Secretary of State Madeleine K. Albright
 
"With clarity and candor, Brad Smith and Carol Ann Browne have crafted an indispensable guide to understanding and tackling the mightiest tech challenges of our time. Drawing on firsthand experience as well as the lessons of history, this perceptive volume shows that solutions will not be solely governmental nor corporate, but must involve collaboration across sectors and borders. Timely, essential reading for all who care about where the tech world goes next." —Margaret O'Mara, author of The Code
 
"Brad Smith has emerged as a vocal and principled thought leader addressing how technology can either help uphold or undermine human rights. As digital technology continues to proliferate, these issues will only grow in importance and command more of the world's attention." —Amal Clooney, international human rights lawyer and co-founder and president, Clooney Foundation for Justice