Inside the Five-Sided Box: Lessons from a Lifetime of Leadership in the Pentagon (CD-Audio)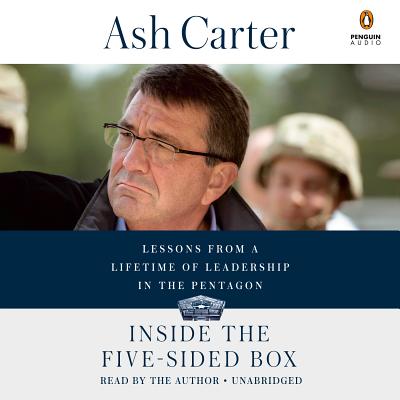 Description
---
The twenty-fifth Secretary of Defense takes readers behind the scenes to reveal the inner workings of the Pentagon, its vital mission, and what it takes to lead it.
 
The Pentagon is the headquarters of the single largest institution in America: the Department of Defense. The D.O.D. employs millions of Americans. It owns and operates more real estate, and spends more money, than any other entity. It manages the world's largest and most complex information network and performs more R&D than Apple, Google, and Microsoft combined. Most important, the policies it carries out, in war and peace, impact the security and freedom of billions of people around the globe.
 
Yet to most Americans, the dealings of the D.O.D. are a mystery, and the Pentagon nothing more than an opaque five-sided box that they regard with a mixture of awe and suspicion.
 
In this new book, former Secretary of Defense Ash Carter demystifies the Pentagon and sheds light on all that happens inside one of the nation's most iconic, and most closely guarded, buildings. Drawn from Carter's thirty-six years of leadership experience in the D.O.D., this is the essential book for understanding the challenge of defending America in a dangerous world—and imparting a trove of incisive lessons that can guide leaders in any complex organization.
 
In these times of great disruption and danger, the need for Ash Carter's authoritative and pragmatic account is more urgent than ever.
About the Author
---
For over thirty-five years Ash Carter served in numerous jobs in the Department of Defense, mostly recently as the twenty-fifth Secretary of Defense under President Obama. He currently serves as the Director of the Belfer Center for Science and International Affairs at Harvard University's Kennedy School. He also is an innovation fellow at MIT. A native of Philadelphia, he and his wife, Stephanie, have two grown children.
Praise For…
---
Praise for Inside the Five-Sided Box: 
One of The Washington Post's 10 Leadership Books to Watch for 2019

"In this intelligent, wide-ranging memoir, Carter, President Obama's final secretary of defense, outlines the challenges and intricacies of working in the Pentagon and shares his organizational philosophy…Foreign policy wonks will eat this up."—Publishers Weekly

"A lucid explanation of how the Department of Defense operates…an illuminating if unsettling account of what it takes to run 'the largest and most complex organization in the entire world.'"—Kirkus Reviews

"Ash Carter is a distinguished public servant and an exceptional student of strategic affairs. This book should be essential reading for anyone concerned about the evolution that technology and political upheavals around the world impose on us."—Dr. Henry A. Kissinger

"What happens at the Pentagon can feel mysterious to those outside its walls. No one knows more about how it works than former Defense Secretary Ash Carter, an extraordinary leader and public servant of the highest caliber. This book should be required reading for every citizen who wants to know more about how our country stays secure."—Sheryl Sandberg, COO of Facebook and founder of LeanIn.Org and OptionB.Org

 "Everyone knows Ash Carter is one of America's most respected leaders, but I know firsthand that he is also one of the great technologists of our time. He adeptly used both gifts to make the Pentagon as innovative as possible, in turn making us all as safe as possible. This book tells us how he did it, and what he thinks needs to happen in the future."—Eric Schmidt, Technical Advisor, Alphabet Inc.
 
"Ash Carter draws lessons that are useful for anyone who wants to be a great manager or leader or innovator. A tale of creativity in the face of bureaucracy, the book is both informative and inspiring."—Walter Isaacson, University Professor of History, Tulane University, and author of Steve Jobs
 
"What does it really take to run, reinvigorate, and reform the largest, most complex organization on Earth? Ash Carter's lessons from four decades in the Pentagon are an essential guide to leadership for anyone who wants to serve a cause larger than themselves."—Indra Nooyi, former Chairman and CEO, PepsiCo
 
"A must-read for any citizen who cares about our military and how it works … not a book about a bureaucracy but a vivid account of the flesh-and-blood defenders of America. It is a unique story, by a uniquely qualified former Secretary of Defense."—Robert M. Gates, Secretary of Defense (2006-2011).
 
"Nobody knows more about the Pentagon than Ash Carter. And his book breaks it down so that the American people can understand it, too."—Vice President Joe Biden
 
"Ash Carter's impressive career in public service is a testament to the power of steady and informed leadership. His excellent new book provides critical management lessons, told through his unique perspective working at the highest levels of government for nearly four decades. It should be required reading for all who seek to become effective leaders in any field."—Christine Lagarde
 
 "Ash Carter undertakes to describe what it is like to run the largest enterprise in the world, the U.S. Department of Defense, and he tells his story in a clear and compelling manner. No one should consider taking on any job in the Pentagon, or trying to deal with big national security issues, without reading this book."—William J. Perry, Secretary of Defense (1994-1997) and author of My Journey at the Nuclear Brink
 
"As Secretary of Defense, Ash Carter was both an ideal public servant and also a model any manager can learn from. Read this book and you will see why the Department of Defense awarded him its highest civilian medal five times."—Reid Hoffman, co-founder of LinkedIn and co-author of Blitzscaling
 
"For those who served with Ash Carter in the Pentagon, he is a trusted comrade and beloved icon. With his brilliant narrative of how the five-sided behemoth actually functions, the former Defense Secretary is now a deft guide and thoughtful interpreter of what may be the most complex bureaucracy in history."—Stan McChrystal, General (Retired), U.S. Army
 
"Inside the Five-Sided Box offers a fascinating insight into the inner workings of the Pentagon and yet another demonstration of the sharp strategic mind and outstanding sense of leadership Ash Carter displayed."—Jean-Yves Le Drian, French Minister for Europe and Foreign Affairs  
 
"At a time when too few understand the critical role of the Department of the Defense, Secretary Carter's book bridges this divide with intelligence, insight, and character. An engaging read that illuminates what the public needs to understand to support the military we deserve."—Jennifer Pahlka, founder and Executive Director of Code for America
 
"An inspiring read by a highly respected and reliable colleague. Ash Carter describes the challenges of the office of Secretary of Defense in an impressive manner. When it comes to leadership, he is a true role model, always seeking what is best for his country and his men and women in uniform."—Ursula von der Leyen, Federal Minister of Defense, Republic of Germany  
 
"Unusually candid and compelling insights…a tour de force on making high-stakes decisions under pressure and uncertainty, managing people whose expertise you don't share, and innovating in the center of a bureaucracy."—Adam Grant, New York Times bestselling author of Give and Take, Originals, Option B and Power Moves
 
"Ash Carter tells us in digestible detail just how complex it is to build and maintain the world's greatest military force in the face of ever new threats. Inside the Five-Sided Box is a master class in what it takes to get the job done to ensure America's security."—Wendy R. Sherman, Director, Center for Public Leadership at Harvard Kennedy School and author of Not for the Faint of Heart
 
"With a workforce larger than Amazon, McDonald's, FedEx, Target, and GE combined, the Pentagon is a five-sided black box that few understand. Ash Carter takes readers inside the world's largest and most complex organization and provides a master class on leadership, strategy, and thinking outside a five-sided box."—Graham T. Allison, Founding Dean of the Harvard Kennedy School and author of Destined for War
 
"Ash Carter's reflections are significant and welcome contributions to our understanding of national security in the 21st century."—David Gergen, CNN senior political analyst and professor of public service, Harvard Kennedy School