Freedom From Busy: Practical Strategies to Release Your Inner Control Freak and Reclaim Your Joy (Paperback)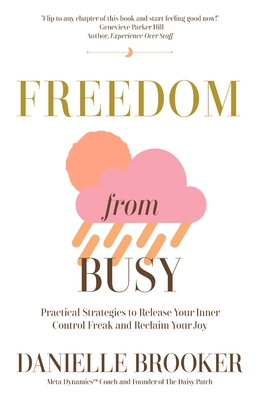 $14.99
Usually Ships in 2-6 Days
Description
---
"Flip to any chapter of this book and start feeling good now " - Genevieve Parker Hill, Founder, Simple Living Toolkit
An action-oriented and approachable look into how we can break up with busy, tune into our heart's wisdom, and connect with more joy, by the host of the beloved Let It Shine podcast.
Many of us are holding tight to busy to stay in control and to avoid feeling stressed. That resistance also means we're holding back on our deep sense of joy. In Freedom from Busy, life coach and wellness enthusiast Danielle Brooker guides ambitious readers to embrace joy, ditch busyness, and still reach all the goals they're meant to achieve.
In these pages you'll find practical strategies for how to:
Find your superpowers
Free yourself from busy
Get out of your head
Figure out what lights you up
Define what you want
Feel in control of your life
Get your confidence back
Embrace the natural way your body works
Choose deep joy
...and much more
Experience more fun, ease, and pleasure each day with this inspiring guide that will motivate you to create a unique life that completely lights you up.