City Skylines around the World Coloring Book for Toddlers (Paperback)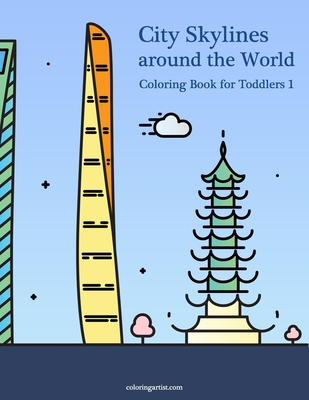 $6.95
Usually Ships in 1-5 Days
Description
---
Toddlers can bring their imagination to life with this coloring book filled with beautiful skylines of cities all over the world.
City Skylines around the World Coloring Book for Toddlers 1 contains 40 coloring pages with skylines of cities from around the globe. All images are in exactly the same style as the cover. The following cities are featured:
Shanghai, People's Republic of China
Singapore
Sydney, Australia
Toronto, Canada
Jerusalem, Israel
Chennai, India
Mumbai, India
Johannesburg, South Africa
New York City, New York, USA
Seattle, Washington, USA
Warsaw, Poland
Cannes, France
Naples, Italy
Phuket, Thailand
Munich, Germany
Heidelberg, Germany
Nagpur, India
Cincinnati, Ohio, USA
Sacramento, California, USA
Buenos Aires, Argentina
Detroit, Michigan, USA
Puebla City, Mexico
Luxembourg, Luxembourg
Padua, Italy
Syracuse, New York, USA
Perth, Australia
Chengdu, People's Republic of China
Goa, India
Nicosia, Cyprus
Luanda, Angola
Leeds, United Kingdom
Baku, Azerbaijan
Mainz, Germany
Alor Setar, Malaysia
Asunci n, Paraguay
Amman, Jordan
Krasnoyarsk, Russia
Murcia, Spain
Voronezh, Russia
Tashkent, Uzbekistan
Using their favorite colors and art supplies, young kids can create personal masterpieces while they develop important skills. Young children enjoy coloring independently or socially as they connect with caregivers or friends.
A highly personal gift for a young explorer in your life.
Printed on single-sided pages to prevent smudging.
Hours of imaginative fun.
Accessible and appealing to budding artists.
Coloring isn't just fun for toddlers. It will also:
Improve focus and attention to detail.
Develop grip, hand-eye coordination, and fine motor skills.
Increase patience.
Build confidence.
Reduce stress and frustration.
Click Add to Cart at the top of this page to give these benefits to a toddler you love.
Learn more and see our entire collection at www.coloringartist.com or contact us at info@coloringartist.com. If your young child enjoys their coloring book, please leave a positive review on this page to help us reach more budding artists.