The Pagan Lord: A Novel (Saxon Tales #7) (Large Print / Paperback)
Holiday Hours and New Hours in 2022
Thank you for your support this year!
Beginning Jan. 3 Prince Books will open one hour later at 10 am Mon-Sat. and 11 am Sunday.
January 10, 2022: WE ARE HIRING. PLEASE SEE JOB DESCRIPTION BELOW AND CLICK pdf AT THE BOTTOM FOR EMPLOYMENT APPLICATION
Application must be filled out by hand and returned to the bookstore in person.
EMPLOYMENT APPLICATION BELOW:
High school degree mandatory; at least some college preferred.
This job is people oriented but also extremely detail oriented! We process a lot of special and online orders and have thousands of inventory records. Strict adherence to our process is important to keep the store operating smoothly.
Responsibilities include, but are not limited to:
Ensuring that all customers, whether in store, over the phone or online have a positive shopping experience
Operating our cash registers efficiently and accurately
Creating and maintaining displays; shelving books and maintaining good section organization
Receiving and returning shipments; maintaining an accurate physical inventory
Processing online orders for store pickup, curbside pickup, and shipping
Standing/walking is constantly required
Lifting of books and boxes is constantly required
Basic store maintenance including taking out trash and boxes, washing door windows, and dusting
Must be comfortable learning and working with a variety of software, including point of sale/inventory control system, ecommerce and shipping programs
Must be able to work in a team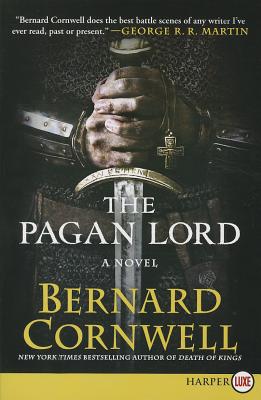 Other Books in Series
This is book number 7 in the Saxon Tales series.
Description
---
The seventh installment of Bernard Cornwell's bestselling series chronicling the epic saga of the making of England, "like Game of Thrones, but real" (The Observer, London)—the basis for The Last Kingdom, the hit BBC America television series.
At the onset of the tenth century, England is in turmoil. Alfred the Great is dead and his son Edward reigns as king. Wessex survives but peace cannot hold: the Danes in the north, led by Viking Cnut Longsword, stand ready to invade and will never rest until the emerald crown is theirs.
Uhtred, once Alfred's great warrior but now out of favor with the new king, must lead a band of outcasts north to recapture his old family home, the impregnable Northumbrian fortress Bebbanburg.
Loyalties will be divided and men will fall as each Saxon kingdom is drawn into the bloodiest battle yet with the Danes—a war that will decide the fate of every king, and the entire English nation.
With The Pagan Lord, New York Times bestselling author Bernard Cornwell—"the most prolific and successful historical novelist in the world today" (Wall Street Journal)—continues his magnificent epic of the making of England during the Middle Ages, vividly bringing to life the uneasy alliances, violent combat, and deadly intrigue that gave birth to the British nation.
About the Author
---
BERNARD CORNWELL is the author of over fifty novels, including the acclaimed New York Times bestselling Saxon Tales, which serve as the basis for the hit Netflix series The Last Kingdom. He lives with his wife on Cape Cod and in Charleston, South Carolina.
Praise For…
---
"A violent, absorbing historical saga, deeply researched and thoroughly imagined."
— Washington Post

"Cornwell successfully brings an unjustly obscure era in British history to life….The conflict between Dane and Saxon is examined with sympathy and insight-without projecting 21st century values onto cultures now alien to us. In the course of this, he shows how historical novels should be written."
— Publishers Weekly

"Cornwell, a master of historical fiction, has written another energetic and involving mix of history and storytelling that will please his many fans….A sweeping story."
— Library Journal

"Cornwell does a masterful job of showing not only how Uhtred fights, but also in how he uses his wits to backstab, threaten, bluff, and maneuver his way into a position where he's able to fight with the best possible odds."
— Bookreporter.com

"Plunges the reader into the world of the past, with all of its cruelties, nonexistent plumbing and deplorable personal grooming....Cornwell is a master at writing these historical novels, and The Pagan Lord as usual, is no exception."
— The Oklahoman

"Uhtred of Bebbanburg rides into battle once again in the seventh installment of Cornwell's stellar Saxon Tales series….Cornwell excels at depicting gloriously gory battle scenes as well as the inherent religious, political, and martial conflicts upon which a great nation was born."
— Booklist