Frida in America: The Creative Awakening of a Great Artist (Hardcover)
COVID-19 Update
March 30: In his March 30 press briefing, Governor Northam continues to say that businesses like Prince Books may remain open to customers as long as we practice social distancing. We are currently processing many online, email and phone orders, and we continue to receive boxes from our wholesaler and publishers. You are welcome to request curbside delivery, or you may come into the store. We spray the counter and the doors throughout the day. Please continue to order from us! Thank you for your business.
For now, Prince Books intends to remain open. If you would like a book and don't want to come into the store, please call us with your book request and credit card number, (or place order at prince-books.com), tell us that you would like us to bring your purchase out to your car. Park on Martin's Lane next to the back door, and call us so we can run your purchase out to you.
In the meantime we'll be closing daily at 5 p.m. Thank you for your business!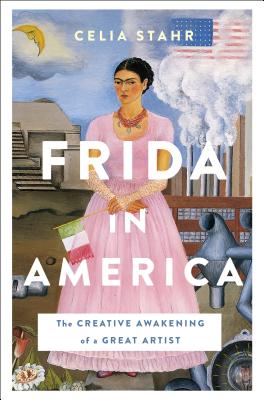 Description
---
The riveting story of how three years spent in the United States transformed Frida Kahlo into the artist we know today

"[An] insightful debut....Featuring meticulous research and elegant turns of phrase, Stahr's engrossing account provides scholarly though accessible analysis for both feminists and art lovers." —Publisher's Weekly
Mexican artist Frida Kahlo adored adventure. In November, 1930, she was thrilled to realize her dream of traveling to the United States to live in San Francisco, Detroit, and New York. Still, leaving her family and her country for the first time was monumental.
Only twenty-three and newly married to the already world-famous forty-three-year-old Diego Rivera, she was at a crossroads in her life and this new place, one filled with magnificent beauty, horrific poverty, racial tension, anti-Semitism, ethnic diversity, bland Midwestern food, and a thriving music scene, pushed Frida in unexpected directions. Shifts in her style of painting began to appear, cracks in her marriage widened, and tragedy struck, twice while she was living in Detroit.
Frida in America is the first in-depth biography of these formative years spent in Gringolandia, a place Frida couldn't always understand. But it's precisely her feelings of being a stranger in a strange land that fueled her creative passions and an even stronger sense of Mexican identity. With vivid detail, Frida in America recreates the pivotal journey that made Senora Rivera the world famous Frida Kahlo.
About the Author
---
Celia Stahr is a professor at the University of San Francisco, where she specializes in modern American and contemporary art with an emphasis on feminist art and gender studies, as well as African and multicultural art. She holds a Doctorate of Philosophy from the University of Iowa and lives in the Bay Area.
Praise For…
---
Named one of five books to look forward to in 2020 by Jaime Herndon at The Woolfer
Named one of the 7 BOOKS TO READ IN MARCH by Fortune

"Stahr intends her book to augment the canon ... Writing in both feminist and academic perspectives... Stahr doubles down on feminist issues while she expresses lush appreciation of Frida's flamboyance, her spectacular attire, her rising celebrity, her exceptional talent." —Minneapolis Star Tribune

"The focus is intense and razor-sharp in a significant new book, the first major biography in more than three decades....[Stahr] delves deep." —Mercury News
"Celia Stahr illuminates how not only these events but also Kahlo's culture shock in the U.S.influenced her portraiture canon that is still so famous and treasured today." —Fortune
"It's intriguing to encounter an artist in the act of becoming herself... Stahr's chronicle of Kahlo's breakthrough includes vivid descriptions of the scenes that inspired her." —New York Times Book Review
"I could tell [Frida Khalo's paintings] told a personal story, but I didn't know hers. Frida in America tells that story... Stahr's book is an excellent primer on the meaning of Frida's work." — Hour Detroit
"Stahr brings new clarity to Kahlo's life and genius for creating audacious autobiographical tableaux which pose resounding questions about history, justice, gender, spirituality, and freedom." —Booklist (starred review)
"Highly informative... The first major biography since Hayden Herrera's 1983 work presents the artist in all her ferocious complexity." —Kirkus
"As vivid and bold as Frida Kahlo's painting is Celia Stahr's consummate portrait of the artist. Stahr details her subject's life with precision and empathy, and her probing interpretations of Kahlo's paintings make for absorbing reading. She sets this mercurial woman among the luminaries who were part of her developing world, and does not shy away from examining her marriage to the esteemed yet egotistical Diego Rivera, as well as her politics, her psyche, her philosophies—and her sexuality. Frida Kahlo was an independent, iconic woman with magic in her hands. Stahr has brought her home to us in brilliant colors that rival Kahlo's own. Bravo!" —Linda Gray Sexton, author of Searching For Mercy Street: My Journey Back To My Mother, Anne Sexton
"Deeply researched and astutely interpreted, Celia Stahr's biography weaves together Frida's experiences in Gringolandia with all the vibrancy and color of the huipils the artist loved to wear." —Patricia Albers, author of Joan Mitchell, Lady Painter and Shadows, Fire, Snow: The Life of Tina Modotti

"Frida in America(2020), a new book about the Mexican painter's first trip to the United States reveals more details about the friendship between a 24-year-old Kahlo, then barely known as a painter, and a venerated and successful 44-year-old O'Keeffe." —Artsy